Prime Ministers of India

Jawaharlal Nehru
Gulzarilal Nanda
Lal Bahadur Shastri
Indira Gandi
Morarji Desai
Charan Singh
Rajiv Gandi
V.P.Singh
Chandra Shekhar
P.V.Narasimha Rao
Atal Bihari Vajapayee
H.D.Devegowda
I.K.Gujral
Manmohan Singh
© K. L. Kamat

1889-1964

Although more famous for his monumental work for India after her independence, Jawaharlal's contribution to the freedom movement is enormous. Born to Motilal Nehru,an early congressman and once a president of the Indian National Congress, Nehru was destined to lead India. His education, charm, scholarship, and vision is rarely equaled in modern political history of the world.
He served as president of Indian National Congress for several years and was among the moderates in the party. While Gandhi spent much of his efforts in spiritual discovery, Nehru and Patel shared the burden of building the nation.
Jawaharlal Nehru Picture Album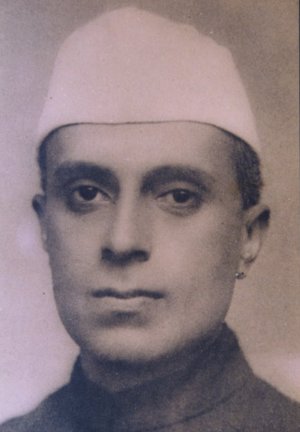 Jawaharlal Nehru
Few leaders of the world had the intellect, charm and vision of Nehru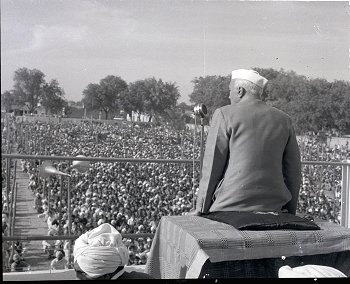 Nehru at a Congress Rally
Jawaharlal Nehru addressing Indian crowd in Gurgoan, 1957
Biography: Gulzarilal Nanda
Early in his life Mr. Nanda took to social service. He led a famine relief expedition on foot to Garhwal and distributed food for the famished. His academic career was brilliant. He took the M.A and L.L.B degrees of the Allahabad University. He held the Research Scholarship in economics. In that connection he went on an All-India tour, and submitted a paper on "Industrial Unrest, its Causes and Cure."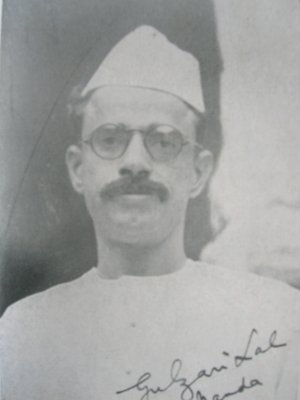 Gulzarilal Nanda
Nanda served twice as interim prime-minster of India (after deaths of Nehru and Shatri).
During his stay in Bombay he interviewed Mr. Shankarlal Banker and asked him to furnish information on the Trade Unionism. Mr. Banker refused to help him as Mr.Nanda was preparing the thesis under the auspices of the Government. His refusal had a profound effect on him. The same evening he wired the Government his unwillingness to further research.
Thereafter he was appointed professor of Economics at the National College, Bombay. Then he became the manager of the Charaka Depot at Ahmedabad. As the General Secretary of the Labor association he fused together the forces of Labor and Nationalism.
No praise will be too high for the pioneer work he did in the cause of Labor. He introduced the principle of arbitration in settling industrial disputes. Every year the Association spends Rs. 50,000 to provide educational facilities for the workers. It has marshaled a volunteer corps of 1000 strong. As a result of his efforts the highest wages are paid to the workers and there are fewer strikes. The Labor Association has the largest membership in India.
Mr.Nanda organized the picketing of liquor shops. Once he was treated to lati and his arm was fractured. He is now the Parliamentary Secretary to the Prime minister, Bombay.
A conviction of virtue, a spirit of service and a habit of mental rectitude bear witness to is work. Treasures of tenderness shine within his being.

Lal Bahadur Shastri (1904-66)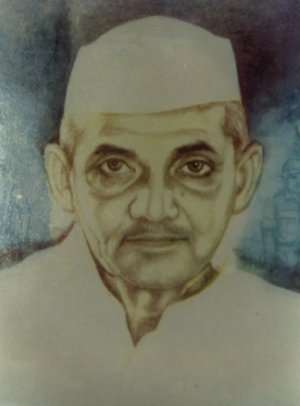 Now mostly forgotten, Lal Bahadur Shastri was a man of vision and of supreme patriotism. A generous man, he gave away all of his wealth and became advocate of land reform through land donations (Bhudaan). A devout Gandhian, he advocated social reform as a means to achieve self-reliance.
Lal Bahadur Shatri went on to become the second Prime-minister of India after the death of Nehru. He died under mysterious circumstances on a peace mission to Soviet Union. He was a popular leader of the indian National Congressand gave the country the slogan "Jai Jawan- Jai Kisan" (Hail the Soldier, Hail the Farmer)
Indira Priyadarshini Nehru, and more popularly known as Indira Gandi (1917-1984) is perhaps the most dominating person in Indian history after its independence in 1947. Indira was born to Jawaharlal Nehru and Kamala Nehru in the politically influential family and is said to have been groomed to be a leader of India since her childhood. Her father, grandfather, aunts and mother, all had served important roles in the formation of India.
See: Nehru-Gandhi Dynasty -- For five generations the Nehrus and Gandhis have dominated Indian political scene. A pictorial essay lists the various positions they have held..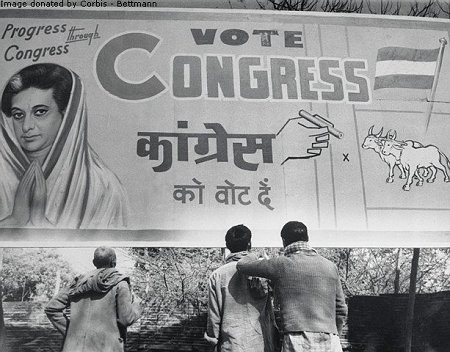 Despite her grooming, nobody quite expected the courage and the political manipulative skills Indira was to show during the tumultuous fifteen years she served as India's prime-minister (1966-1977 and 1980-1884) and the years leading to that position. Indira is most often quoted as the first woman leader of a big nation.
Rise of Indira Gandhi
In 1964, after her father (and Prime Minister of India, Nehru) died, Indira was elected to the parliament. A void was created in the nation with the untimely and mysterious death of Lal Bahadur Shastri and as India and Pakistan were at war. Indira Gandhi, was named prime minister on Jan. 19, 1966, mostly because the other contenders in Congress couldn't bear each other and the consensus was a woman, a widow (her husband Firoze Gandhi died in 1960) would be able to bridge the gap due to her family background and public sympathy.
Indira quickly started consolidating her position. She spilt her own party to get rid of elements opposed to her. The Indian National Congress, the greatest Indian institution thus split into "Old" and "New" wings in 1969, with Indira controlling the "New Congress".
Indira as Courageous Leader
During the 1970s India as a nation was barely twenty years old and faced numerous problems. The refugee problem neighboring West Pakistan was a priority, but India could not act because it would appear as interfering in Pakistan's internal political affairs. Indira sought to build an international consensus, only to be shunned by Great Britain (former ruler) and the U.S.A. So Indira went to war with neighboring Pakistan, won, and created a new nation of Bangladesh. This courageous leadership made Indira very popular domestically, and her her willingness to take on America brought India closer to the U.S.S.R., the cold-war rival.
In 1974 India test fired a nuclear weapon, in a show of might and announcement of her importance in Asia. Indira became synonym with India, and was referred to "Amma", motherly figure.
Indira Becomes a Dictator
Faced with protests and strikes after the New Congress party was convicted of voting irregularities in 1975, Mrs. Gandhi declared a state of emergency in June of 1976. Press censorship was imposed, thousands were arrested for political offenses, and various economic-control measures were adopted. In what is known as a black stain on India's democracy, the fourteen months of emergency resulted in excessive use of force, large scale favoritisms, and coterie building, and people of India became fed up with Indira's hard-handed rule.
In a stunning display of resiliency of Indian democracy, Indira and her son Sanjay were defeated in that election, by candidates who were still in prison. Indira's Congress Party lost power, and a new political force, the Janata Party, emerged. But the weakening of opposition Indira Gandhi had engineered was to have a far damaging impact on the nation, resulting in successive governments that were weak and unstable.
Indira Gandhi Re-emerges
Mrs. Gandhi's party was returned to power in 1980, and became a premier once again, and resumed her authoritative ways. Her son and heir apparent, Sanjay Gandhi died in a plane crash and devastated Indira. Subsequent to it, her elder son Rajiv Gandi, who hitherto was unwilling politician, was inducted into India's politics.
After an army attack on the Sikhs' Golden Temple in Amritsar, Gandhi was assassinated by her Sikh bodyguards in October 1984. She was succeeded in office by her son, Rajiv, who placed the Punjab under direct control of the federal government.
Legacy of India Gandhi
Indira sought to build India as a leader nation. Her policies of nuclear independence, and regional leadership have helped India forge a strong regional influence.
Indira cancelled the deal that was made by her predecessors with the princely of India, claiming that the riches belonged to the people of India. While this move was popular with the masses, it paved way for dishonest governments and the government lost credibility forever in India.
Indira's socialistic and populist schemes further impoverished the country, and alienated India from the economic progress during 1980s.
Historians and intellectuals blame India Gandhi, for her abuse of power and democracy, for her lack of vision, for sacrificing the nation's interests for the benefit of her coterie, and for playing immoral politics against the Sikhs.
Nobody can deny Indira Gandhi's important role in forming of 20th Century India. Neither can they deny that she died while serving the nation, and hence deserves the reverence of a martyr.

India Gandhi Picture Album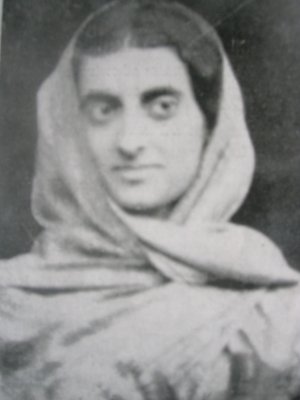 Indira Nehru
A 1938 Photograph shows young Indira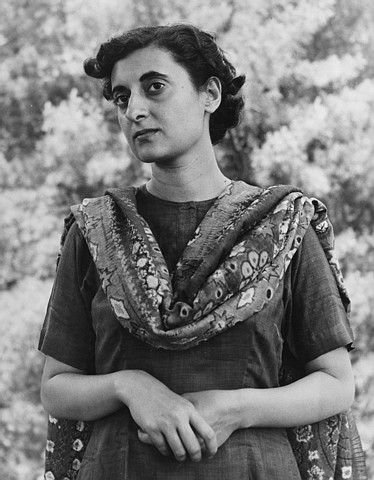 Indira Priyadarshini
Picture of Indira, daughter of Jawaharlal Nehru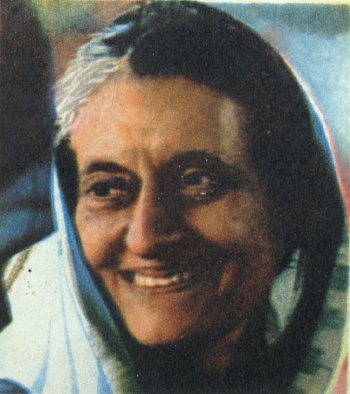 Portrait of Indira Gandhi
Detail from a Indian Postal Stamp
Biography: Morarji Desai
Practical forcefulness in politics is very rare and very precious. The career of Mr.Morarji Desai manifests this in singular eminence.
Fervour, pure-mindedness and spirituality, are the tripod stand on which Indian political life is built. Mr.Desai is a superb example of this combination of virtues.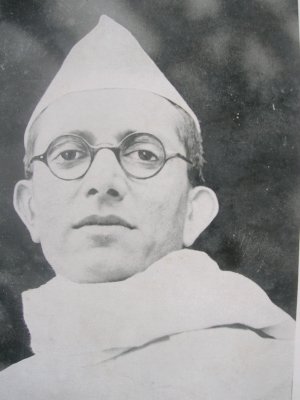 Morarji Desai in 1938

One is struck with his reserved attitude. He is a strange blend of brightness and reticence. This fire-curtain of reserve is the key to his character. For, frivolity is never the vehicle of action.
He was born at Bulsar in 1896.His youth was ardent and he had a passion for concentrated work. He graduated with honours in the first division with Physics as his principle subject. Thereafter he was taken up in the Provincial Civil service. He proved himself able by his administrative capacities. He gained the affection of his colleagues and the approbation of his elders. During the twelve years of his service the vicissitudes of his inward life ware considerable. His opinions underwent great change. He had moments of bitter revolt.
In 1930 he resigned the post and made a distinguished addition to the ranks of the civil registers. He was arrested and sentenced to three months of rigorous imprisonment and fine of Rs.300.But the sentence was set aside by the High Court. For some time he worked as the Secretary of the Gujarat Provincial congress Committee. He was also in charge of the Gujarat Sevadal. During the campaign his organizing faculty was striking in evidence.
In 1932 he was sentenced to one and a half year's rigorous imprisonment and a fine of Rupees.300. After his release he was again imprisoned for two years. He was released unconditionally when the Civil Disobedience Movement was suspended.
The Hon'ble Mr. Desai owned his sentences with glory. The longer the captivity the higher he had risen.
His unruffled calm is a great asset to him. His head is nothing but a mill, incessantly in a whirl. A firm spirit, a good heart and a well-regulated mind entitle him to our grateful esteem.
Source: Haripura Congress Souvenir, 1938